Redefine Your Business with

Agility and Resilience
We leverage Dynamic 365 F&O to help enterprises
reflect on their performance and get real-time
insights into their finances and operations.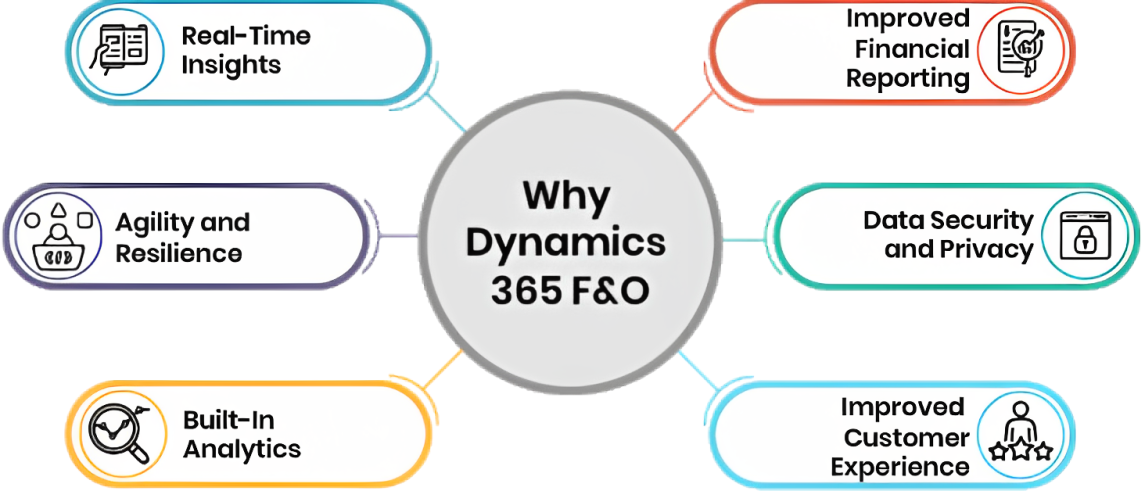 At Evoke, we make enterprises more agile with our detailed project scope, functional design, development, and performance monitoring. Microsoft dynamics assist in better anticipating business needs, seizing new opportunities, providing real-time information, and combating threats.
With Microsoft ERP solutions, we make businesses work smarter by providing AI-managed insights, connected services, and improved financial reporting.
Assessment and Consulting
We assist enterprises in business evaluation by analyzing their needs and challenges. We recommend the best strategy for software selection and ERP implementation to achieve operational excellence.
Implementation Services
Our experts design and deploy the required ERP solution to meet your needs. From solution road mapping to proof-of-concept, our approach ensures smooth implementation and desired outcomes.
Migration Services
We provide businesses with a smooth transition from their current software to Dynamics 365 Finance and Operations. We evaluate migration strategy based on your needs, budget, and timeframe.
Upgrade Services
We offer complete Microsoft Dynamics 365 F&O upgrade services. From identifying the correct upgrade path to securing your data, our experts implement hassle-free upgrades with minimal downtime.
Integration Services
Our experts provide a highly flexible way to integrate Dynamics 365 F&O with back-end systems or any third-party software. We guarantee a quick and smooth integration with minimal business disruption.
Support Services
From performance monitoring to operational support, we provide ongoing post-implementation support to keep your business running smoothly.
Key Dynamics 365 F&O

Solutions We Offer
01
Financial management and reporting
Appropriate planning and implementation of financials provide detailed insights for making informed financial decisions.
02
Distribution and Warehousing
We recommend solutions matching to client's distribution and warehousing needs.
03
Procurement and sourcing
We fine-tune and customize the purchasing policies and workflows to enable control over all levels of the purchasing process.
04
Manufacturing
We enable efficient planning for any discrete process or lean manufacturing to streamline the manufacturing activities.
05
Retail and commerce
We help you optimize your product and service sales with omnichannel solutions.
06
Project management and accounting
We maximize the project profitability by recommending the right approach and plans for your projects from beginning to end.
07
Planning and scheduling
Our best practices enable clients to create an effective Gantt Chart that helps production planners to control and optimize production plans.
08
Product information management
Create and define your products at all layers of information, from bill of material and categorization to sales order processing.
09
Cost management
Get greater control over inventory costing, standard costs, manufacturing costs, and predetermined costs with a flexible system.
10
Business intelligence and reporting
We help our clients in their business decisions by enabling a holistic view of data with PowerBI that displays data with advanced analytics from multiple data sources.
11
Organization administration
Dynamics 365 enables easy administration with workflow, case management, organizational hierarchy, etc.
12
Lifecycle services
Our solution ensures smooth implementations, updates, and upgrades to streamline an entire process.
13
Expense management
We enable efficient expense management using mobile apps that allow users to enter, scan, and attach expense receipts during submission.
14
Human capital management (HR)
We optimize human capital management with expert advice on employee information, benefits management, and organizational structure.
15
Mobility
We enable the utilization of the Dynamics 365 Mobile app to extend Dynamics Financials' business functions to employees, vendors, and customers.
16
Country/Region specific
Capabilities like multi-currency, localization (Tax), electronic reporting, etc., enable an organization to extend its business without modifying its core systems and applications.
Get in Touch with Our Experts
Want to make your business more agile with our Dynamic 365 F&O services?