On 20th Feb 2022, Evoke successfully organized "Run for a Cause" – a fundraiser marathon event in Hyderabad. This event was aimed at benefitting underprivileged children of the Chotuuki Education Foundation (CKE). The CKE foundation is a non-profit organization that educates school dropouts in the Hyderabad slums of Bollaram, Miyapur, Hydernagar, and Jeedimetla areas. A field trip to Birla Planetarium for 90 underprivileged children of the CKE Foundation was made possible through this initiative. The purpose of the initiative was to impart learning and widen the spectrum of knowledge of these children.
Evoke's CSR team constantly takes new initiatives for child welfare programs. The marathon was another such initiative.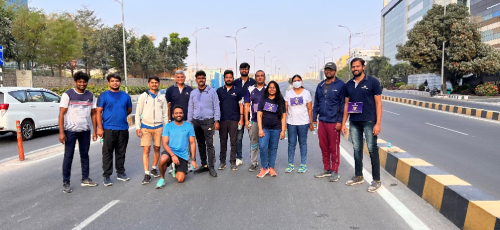 The event not only benefited the underprivileged but also sparked the enthusiasm in our employees. It provided them an opportunity to connect with others in the community, particularly after 2 years of anxiety. Evoke's employees were seen participating in the marathon event enthusiastically. Later, Ramesh Mantana – HR head, presented awards to the first five participants who completed the run.
The zeal and cooperation of Evokians turned this event into a roaring success.
The CSR team at Evoke frequently conducts activities to raise awareness and help people in need. The team is actively working to conduct many such events in the near future.