Monitoring and Support for Smooth and

Reliable Business Operation
Evoke's Site Reliability Engineering services
enable enterprises to improve their
operations and services.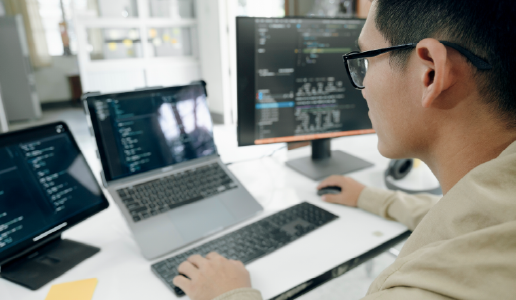 From infrastructure monitoring and capacity planning to application scalability, we ensure our SRE services provide highly reliable and scalable systems that offer maximum system stability.
Our SRE experts provide the best SRE approach and roadmap to instill a stable and secure environment. Our team identifies and resolves issues by implementing tools and solutions to ensure that systems and applications run smoothly. We can help you align your investment and operational efficiency for maximum performance and reliability.
SRE Monitoring
We actively monitor your applications and infrastructure to detect and offer timely issue resolution. We utilize leading monitoring tools such as SolarWinds, BSM & log analyser tools like Splunk to detect downtime and escalate incidents to the appropriate team.
SRE Platform Operations
From application support platforms to their upgradation, we constantly review platforms to improve stability, connectivity, and incident management. Our all-round support offers improved application availability, user management, and security challenges.
SRE DevOps
We make Kubernetes more accessible to developers by supporting the Openshift platform, which enables efficient and timely software delivery. We empower businesses by recommending the best tools for use in the Openshift environment. Our DevOps experts provide additional assistance by investigating and resolving operational issues as well.
Performance Engineering
We assess your application's performance, response time, API performance, and so on using a variety of monitoring and load runner tools. Our end-to-end performance testing assists in evaluating your application performance, workloads, and underlying infrastructure for improved business value.
01
System Stability
Quick and accurate root cause analysis improves System Stability by 99%.
02
Secure and Compliance
Improves business productivity due to enhanced security and no data loss.
03
Operational Efficiency
Improves project management results in lower project costs, and improved application features.
04
Improved Reliability
Proactive alerting to the support and operations teams for remediation.