Driving Business Transformation with a
Dynamic Partnership with Pegasystems
As a specialized Pegasystems partner, Evoke Technologies has combined
forces to help global clients achieve business transformation
and accelerated digital evolution.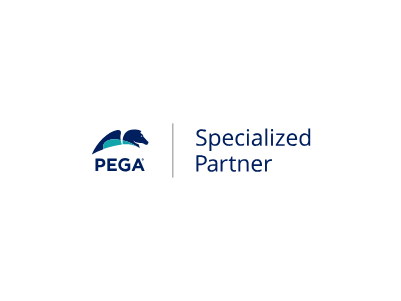 At Evoke Technologies, we believe that successful partnerships drive remarkable results. Collaborating closely with Pegasystems and leveraging the powerful Pega Platform™, our dedicated team of experts works hand in hand to empower organizations in achieving remarkable growth, elevating customer experiences, and embracing unprecedented business agility through the seamless integration of automation.
Highlights of Our Strategic Partnership:
Customer-Centric Approach
Our joint effort places customers at the core of every decision by combining our extensive industry knowledge and Pega's cutting-edge technology.
Industry-Specific Solutions
Evoke Technologies has demonstrated an unmatched ability to develop industry-specific solutions, accelerators, and frameworks on the Pega Platform™.
Speed and Efficiency
Through our close collaboration, we have streamlined digital transformation processes, enabling organizations to achieve their goals in record time.
End-to-End Support
Evoke Technologies and Pegasystems provide comprehensive support, empowering businesses to navigate challenges and capitalize on new opportunities.