Corporate Social Responsibility (CSR) is an inherent


Part of Our Vision
Our CSR initiatives are focused on community development
and supporting social causes for the underprivileged.
At Evoke, our diverse CSR initiatives are managed by
an amazing team of volunteers.
Here is a snippet of the diverse set of
activities that we had undertaken recently.
Latest Initiatives
CSR Partnership with the Akshaya Patra Foundation
September 1st 2023 | GDC-Hyderabad
Evoke's CSR team announced a new CSR partnership with the Akshaya Patra Foundation to serve mid-day meals for children of Government Schools' across Telangana, for the next one year. Ramesh Madala, CEO – Evoke Technologies, handed over the cheque to the Akshay Patra Foundation in the presence of Mr. Jayesh Ranjan, Principal Secretary for Information Technology, Electronics & Communications (ITE&C) and Industries & Commerce Departments, Telangana Government. This marks yet another milestone for Evoke CSR initiatives. Mr. Jayesh Ranjan expressed deep appreciation for Evoke's thoughtful initiative and shared the broad vision of the Telangana government's CSR vision. In his address to the gathering, Ramesh Madala expressed gratitude to Mr. Jayesh Ranjan for gracing the event and emphasized Evoke's commitment towards meaningful grassroots social impact.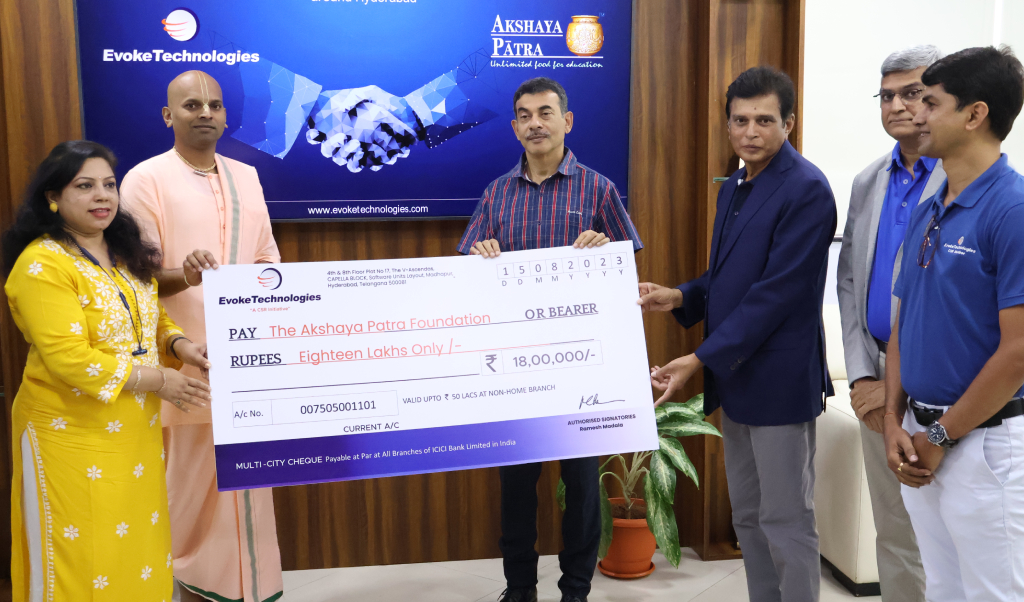 International Yoga Day
June 20th 2023 | GDC-Hyderabad
Evoke Technologies celebrated the International Day of Yoga by organizing invigorating yoga sessions for our associates. Led by renowned yoga trainer Rina Hindocha, the focus was on promoting health and well-being among employees. Through yoga challenges and partner asanas, participants were engaged and encouraged to embrace a balanced and healthy lifestyle. Evoke Technologies aims to help associates understand the significance of yoga and wishes everyone a joyful and meaningful International Day of Yoga.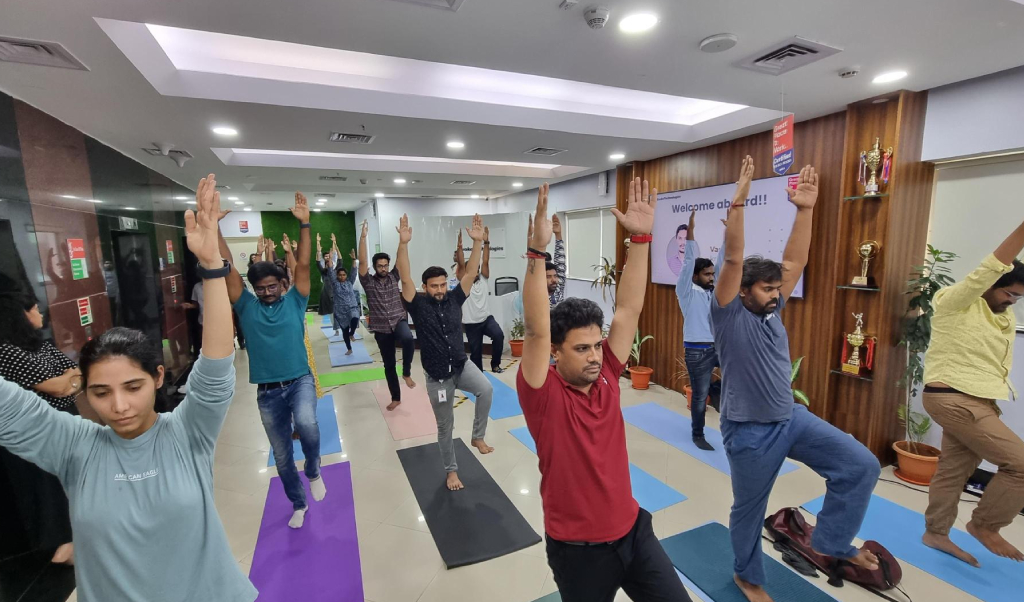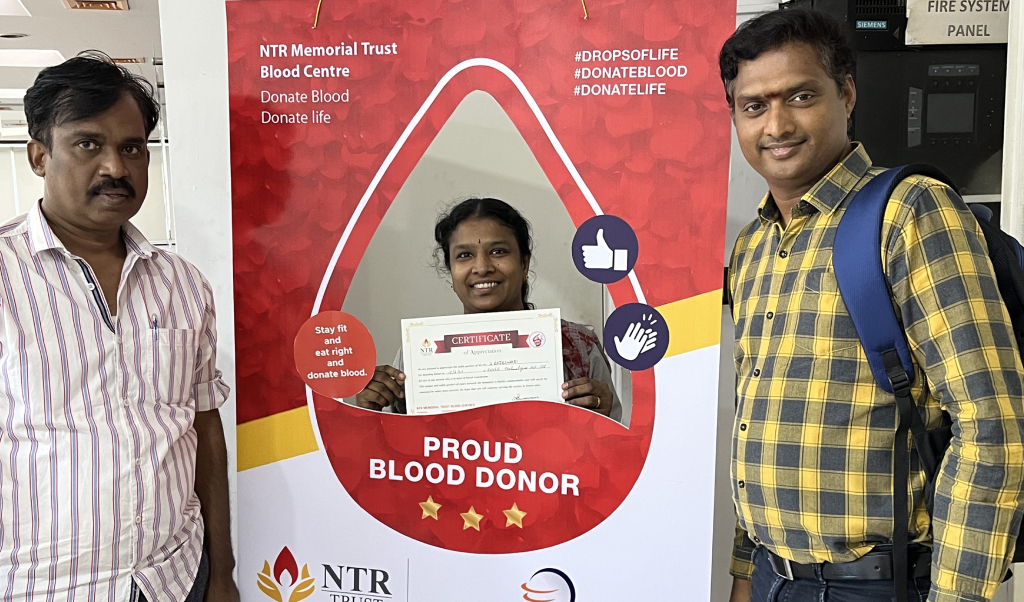 Blood Donor Day
June 12th & 13th 2023 | GDC-Hyderabad
To commemorate World Blood Donor Day, Evoke Technologies and NTR Memorial Trust – Blood Centre have organized a blood donation drive at the Evoke office on June 12 and 13 As part of their ongoing support for children with thalassemia, cancer patients, and government hospitals, NTR Trust is generously providing free blood units. With over 70 associates donating blood yesterday, and more joining in today, the dedication and commitment to this noble cause is truly commendable. Together, let's make a positive impact and save lives through our collective efforts.
Thank-u Organization
15th & 16th March 2023 | GDC-Hyderabad
In partnership with CapitaLand, the Evoke CSR Team initiated a meaningful avenue to extend support to the Thank-u organization. With proper permissions in place, we established a dedicated stall aimed at empowering the differently-abled community.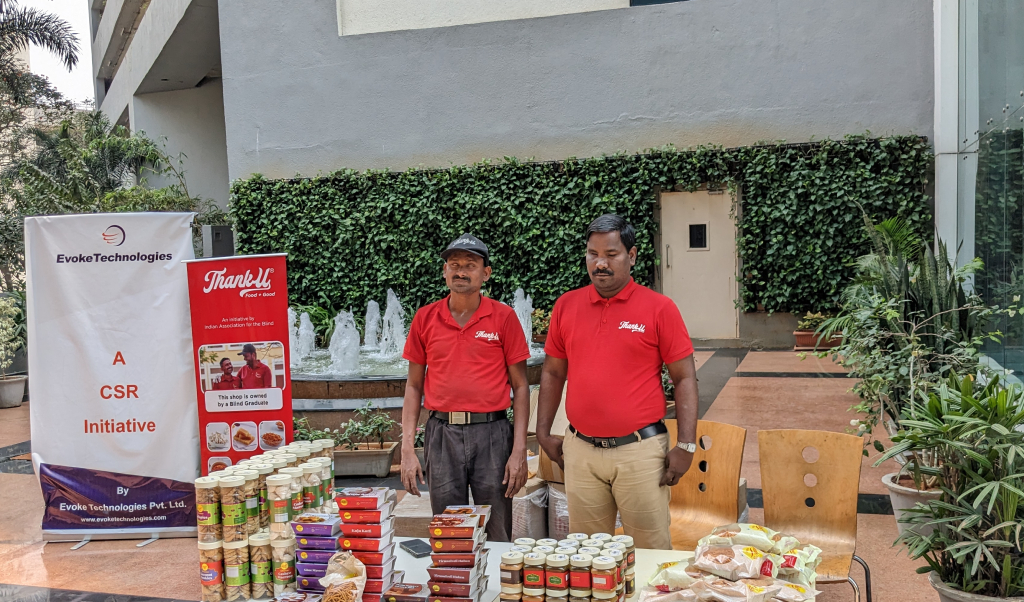 Past Initiatives
A "Back-to-School" Donation Drive
Evoke conducted a "Back-to-School" Donation Drive to support underprivileged children at Hyderabad's VK Dhage School with their school supplies. With the hope of helping these children get a head start on their academics, we donated 195 school bags. The response to the initiative was overwhelming! Our employees' generous donations and active participation contributed to the success of this initiative.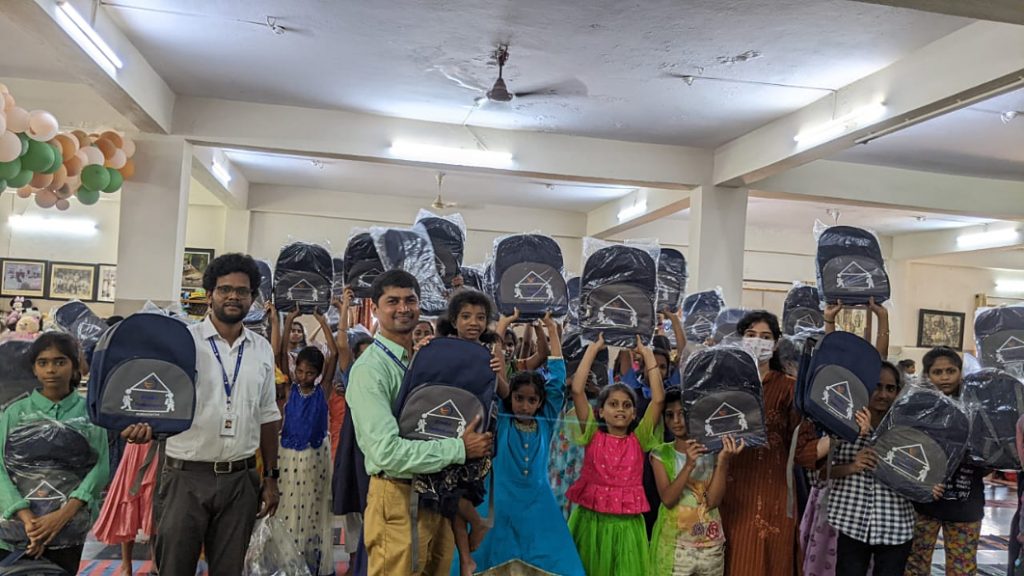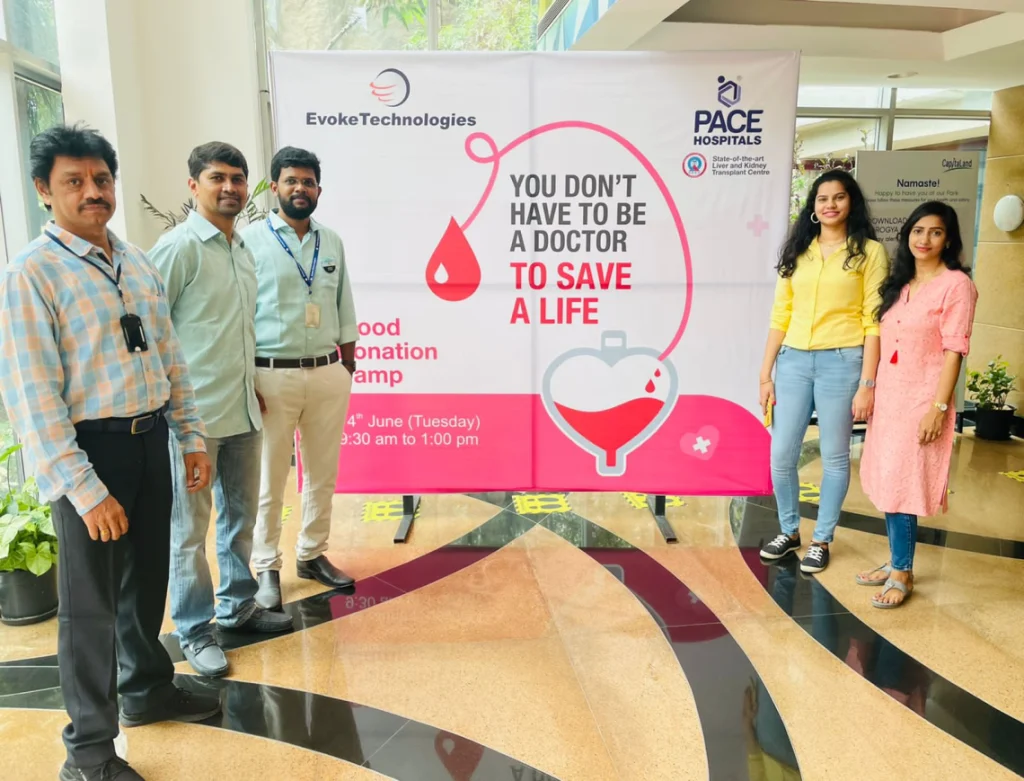 Blood Donation Camp on the World Blood Donor Day
Evoke Technologies organized a blood donation camp at its global delivery center, Hyderabad on 14th June 2020. The event was partnered with PACE Hospital, a super-specialty hospital focused on tertiary care services. The initiative was also aimed to raise awareness about the noble act of donating blood. A large number of Evoke employees participated in the event. Volunteers were awarded certificates as a token of appreciation.
Field Trip for Underprivileged Kids
Evoke Technologies' CSR team helped fund a field trip to the Birla Planetarium for 90 children from the Chotuuki Education Foundation (CKE). The foundation is a non-profit organization that works in educating school dropouts. The generous donation of Evoke's employees through the "Run for a Cause" initiative contributed to the success of this fundraiser event.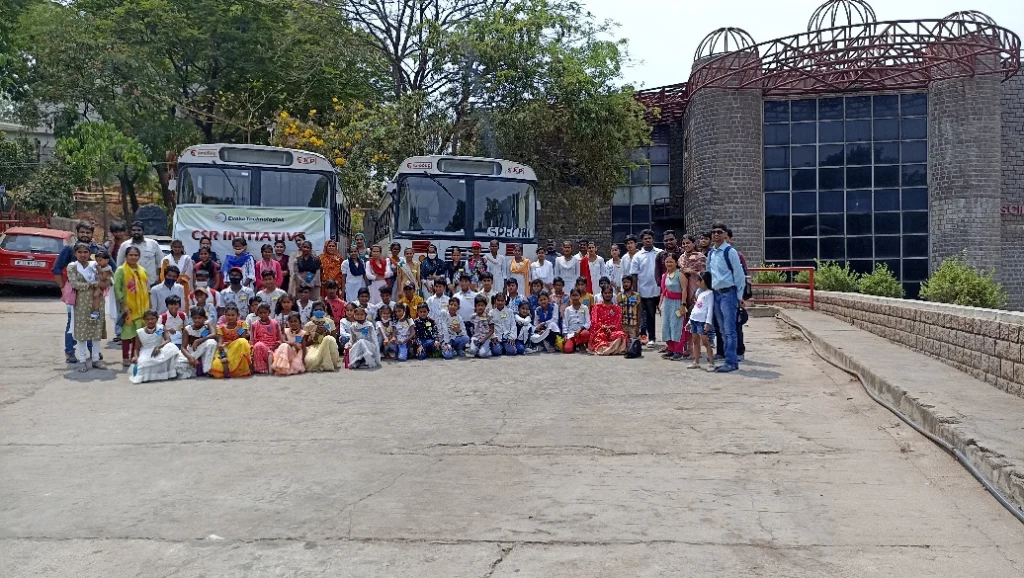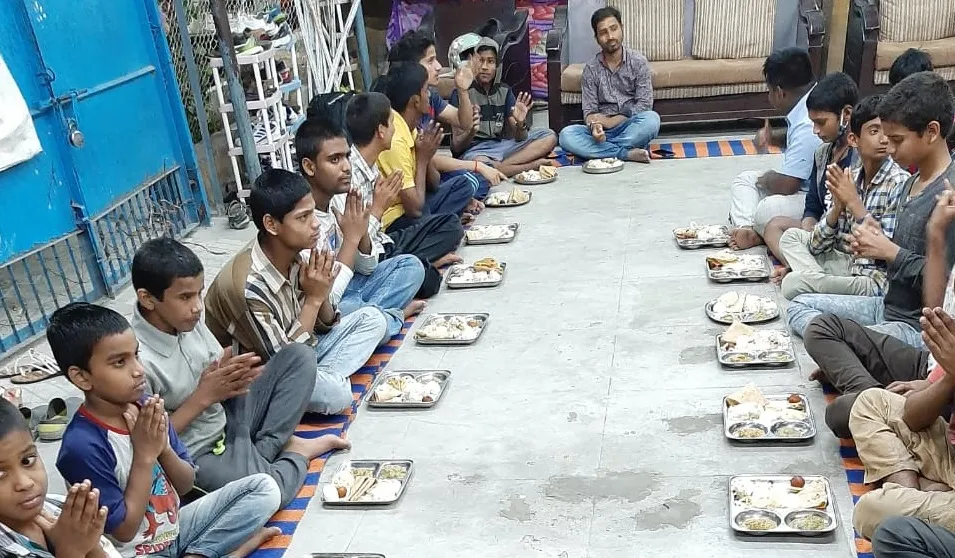 COVID-19 Support to Specially-abled Children
Our CSR team hosted a dinner for special needs children at one of the schools located in GHMC Malakpet circle, Hyderabad. Evoke has also committed to providing food for an entire month amid the COVID-19 pandemic. This initiative was aimed to provide safe and healthy meals to children to help them maintain a nutritional balance and keep hunger at bay during the unprecedented pandemic.
Celebrated Independence Day in Adopted School
Evoke Technologies celebrated India's 73rd Independence Day on August 15th at the Government Primary School Bhuvana Vijaya, KPHB. Following the fun and cultural activities, Evoke's CSR team conducted a prize-distribution ceremony for various competitions. The team also donated shoes to all 143 students along with two laptops to make technology accessible to the kids.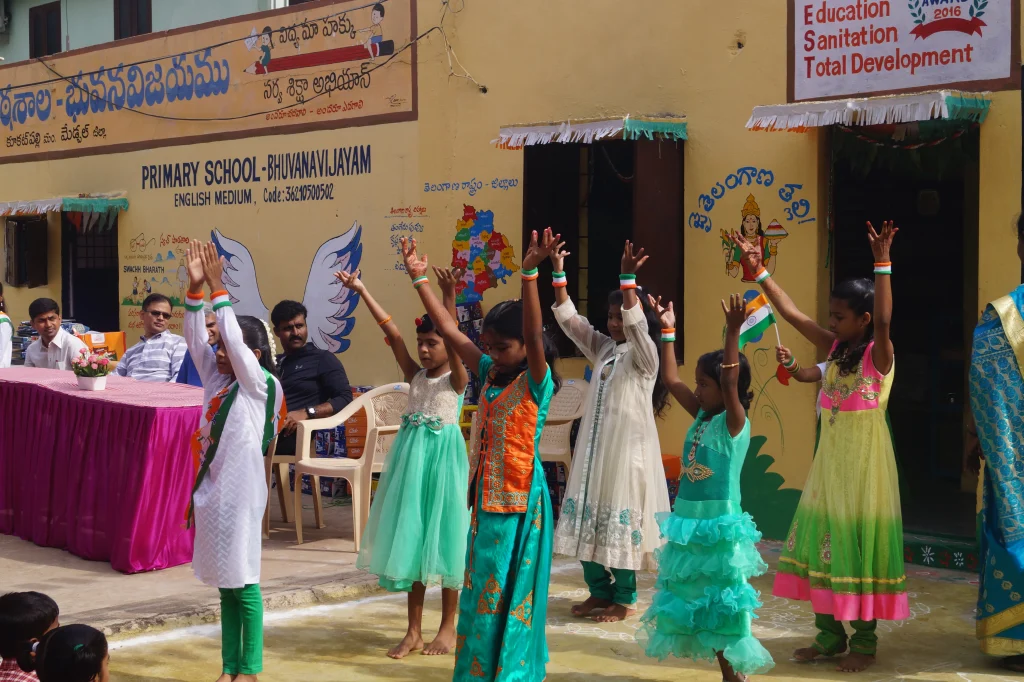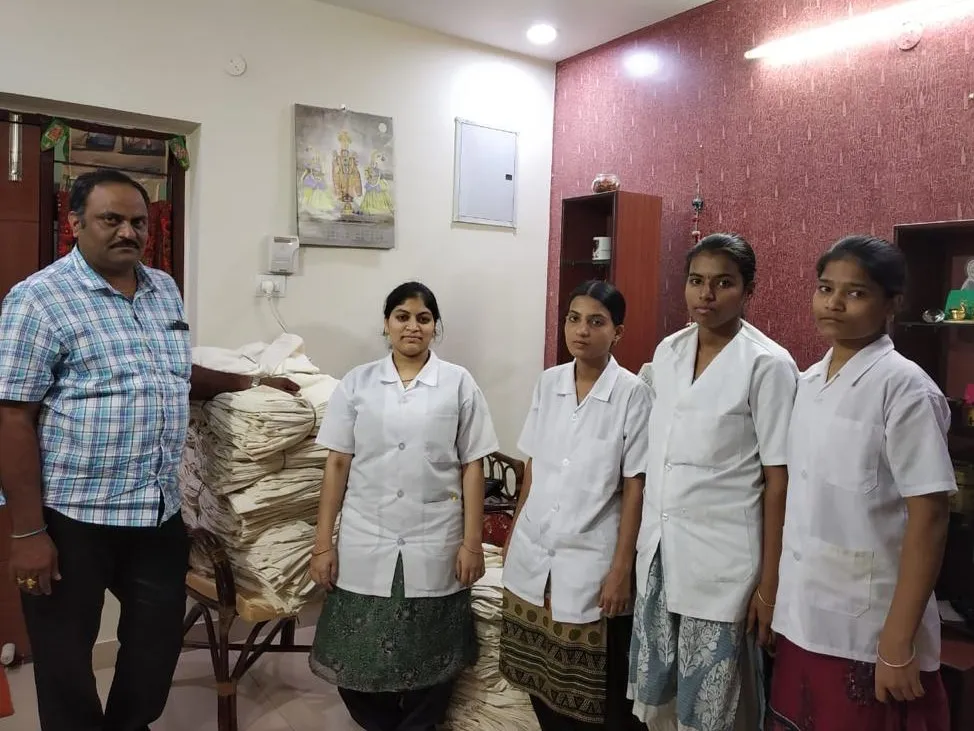 Supporting Go Green Initiative
Evoke's CSR team promoted the use of eco-friendly handbags over hazardous-to-nature plastic bags to support the "Go Green" Initiative. Employees at Evoke supported the cause of environmental conservation and considered purchasing eco-friendly bags from an NGO. The funds raised were used to support a government school for underprivileged children.
School Development Program: Evoke's CSR Initiative
Evoke's CSR initiatives are always aimed to benefit the community at large. This time, we did our bit by supporting Primary Bhuvana Vijayam Govt. school. In an effort to improve the quality of infrastructure and education for the students, Evoke donated school bags, benches, and other fundamental facilities to the school.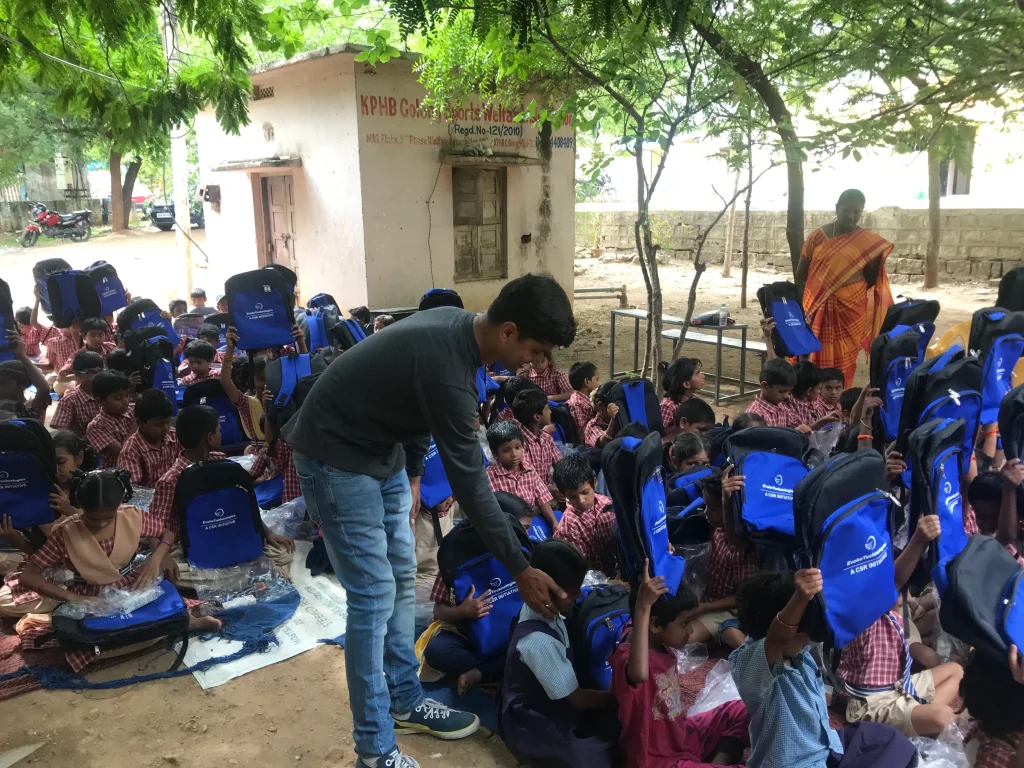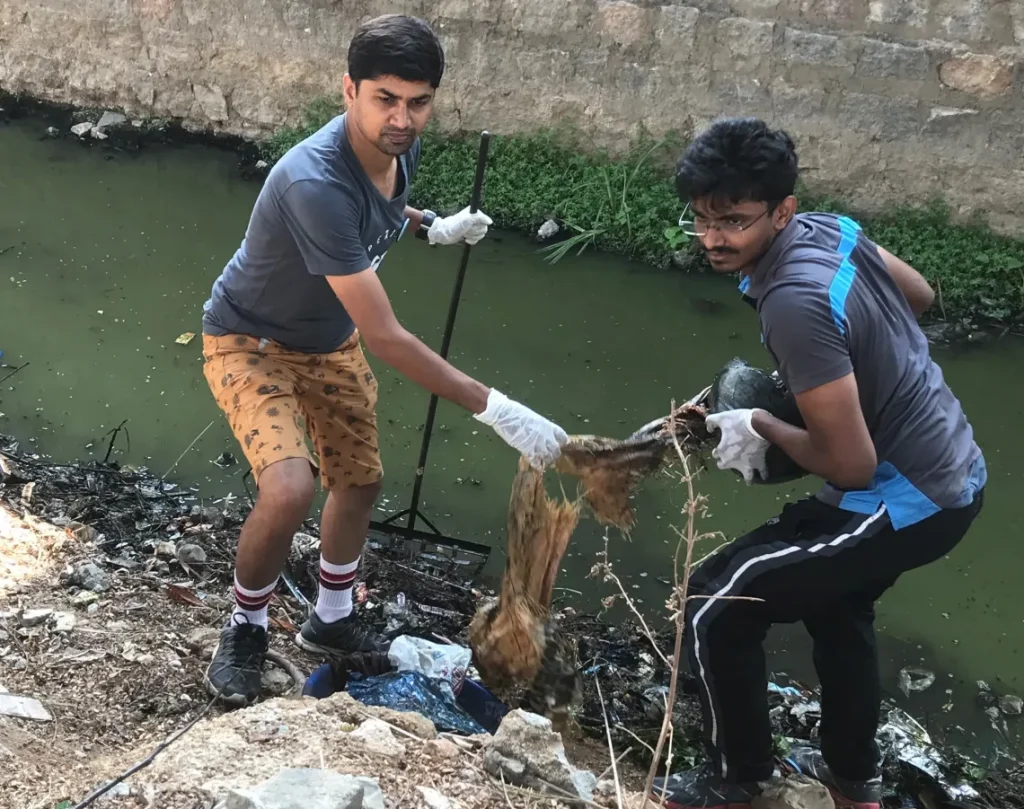 Hafizpet and Nizampet Lake Revival Activities
Our CSR team, along with our employees, took part in lake cleaning activities organized by a group of NGOs in Hafeezpet and Nizampet. These lake revival efforts, which took place during the alternate weeks of June, aided in restoring these bodies of water to their former natural splendor.
Event to Raise Autism Awareness
Evoke invited the 'Autism Research & Multidisciplinary School (ARMS)' team to showcase the creative goodies made by the talented students of ARMS. The representatives from ARMS set up stalls showcasing handmade Diya's, greeting cards, chocolates, paper bags, etc. This event also offered Evoke employees an opportunity to interact closely with ARMS and understand the issues and challenges they face in running the organization.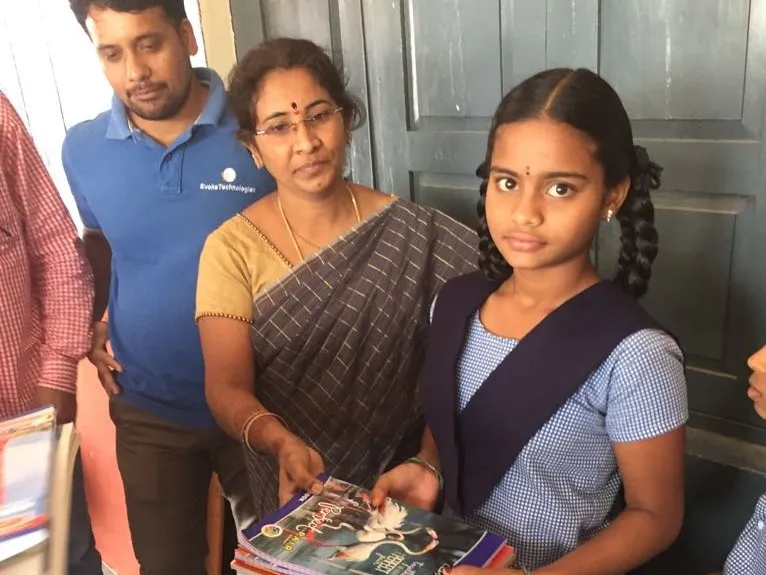 Donated Books and Stationery to Underprivileged Students
Evoke initiated a donation drive to distribute stationery items to the Zilla Parishad High School, Babbuguda, Hyderabad. Evoke employees donated generously and supported the cause of improving literacy skills among children in government schools. Our team also collaborated with the school administration to identify and address the students' specific needs and problems.
Traffic Awareness Campaign
Employees of Evoke Technologies volunteered to help the Cyberabad Traffic Police manage traffic at Cyber Towers signal junction. Evoke volunteers not only assisted traffic police in traffic management but also raised awareness about traffic rules and road safety. Our team's efforts were greatly appreciated by the Cyberabad Traffic Police.
Making Wishes Come True for Underprivileged
In yet another CSR endeavor, Evoke collected wishes from over 50 kids from Sankalp Foundation – an organization dedicated to the development of children in need, and fulfilled them with the support of our employees who are passionate about making a difference in the lives of the less privileged.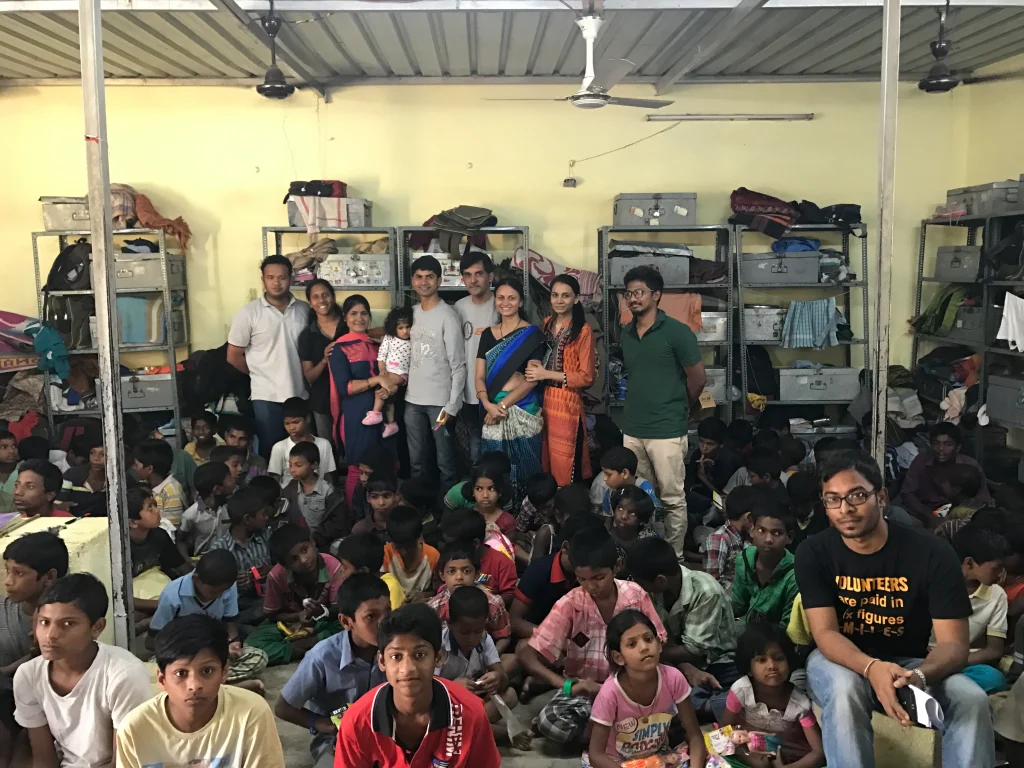 Sponsored Food Expenses for a Shelter Home
Evoke plays an active role in giving back to society. Keeping the momentum going, our CSR team donated a month's groceries to Good Samaritans, a home for the destitute in Kompally. A ten-member SBU team visited and spent time with the residents & staff of the shelter home to understand their concerns and identify ways to extend our support.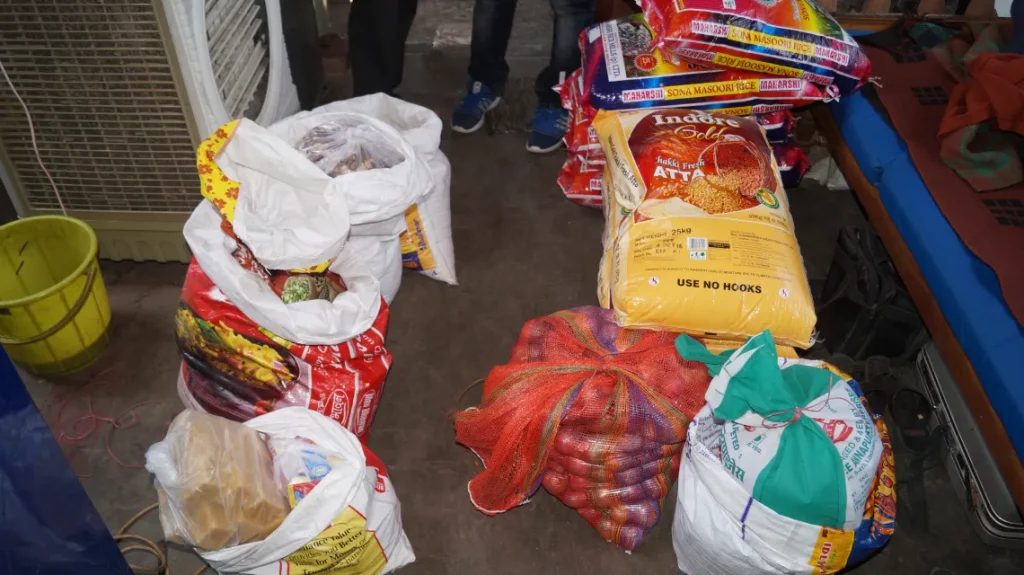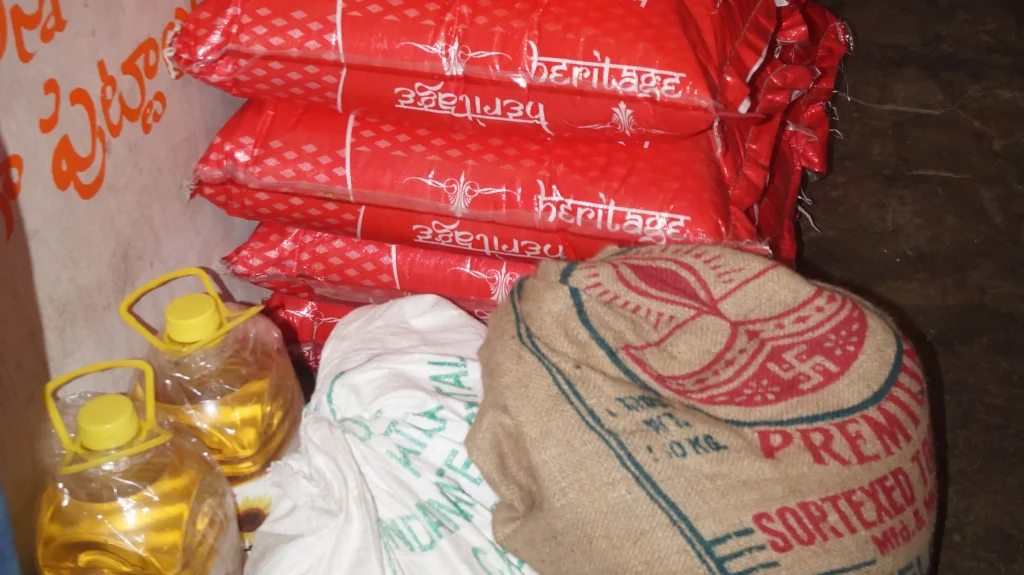 School Fee & Groceries for Orphaned Children
Evoke got together with its employees and raised funds to cover the school fees of 10 children of Amma Odi Orphanage students attending Karunya Model school for a complete year. Evoke also covered one month's grocery expenses for 25 children at the Amma Odi Orphanage in Boduppal.
Celebrated Raksha Bandhan with the Specially-abled
Evoke collaborated with Abhya Care Foundation's Autism Research & Multidisciplinary School to raise awareness about the specially-abled and dispel myths about the disability. Representatives from ARMS set up a stall to display artwork created by specially-abled students. The funds raised from the sale of the goodies were used to support the students at the school.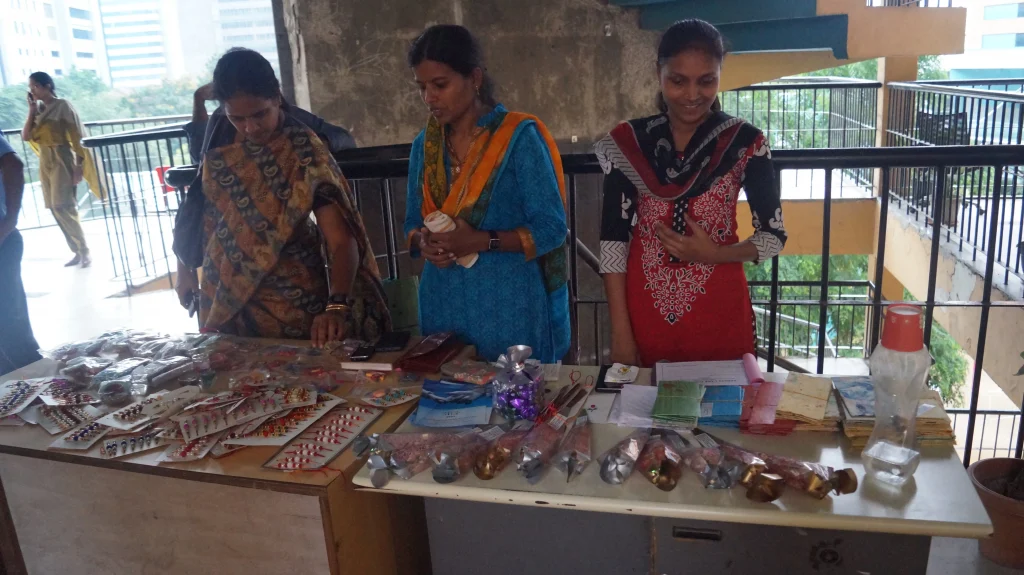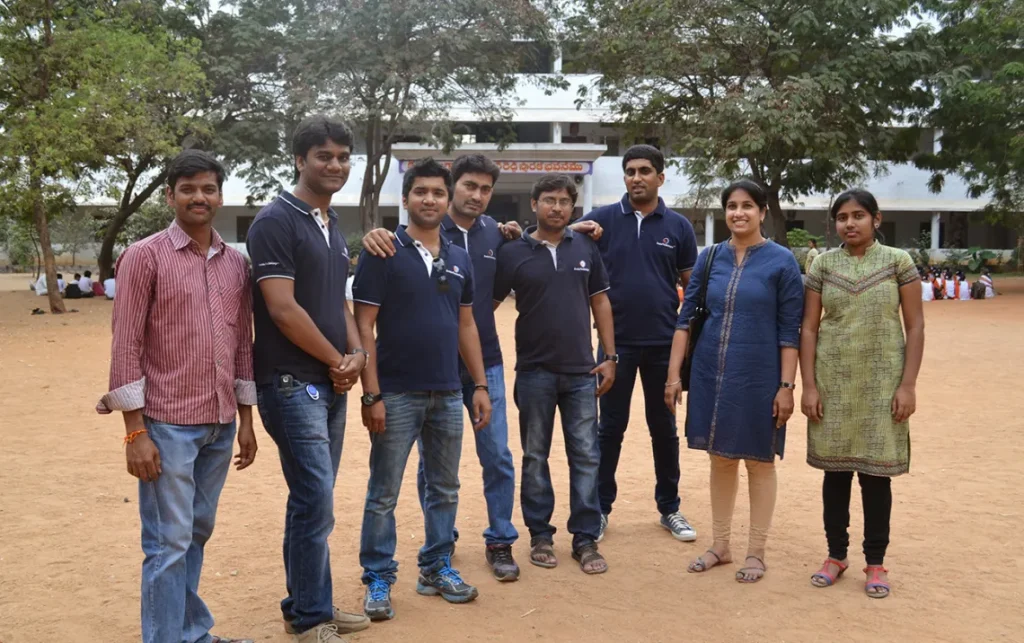 Education Support to Underprivileged Children
Evoke's CSR team conducted a donation drive across the organization to raise funds to support education for underprivileged children. The donations were utilized to sponsor the education fee of 16 orphan school children studying in Karunya Model School. The CSR team actively supports these two educational institutions and has conducted several other activities in the past as well.
Eco-Ride – A Go Green Initiative
Evoke Technologies organized a one-of-a-kind cycling event to raise community awareness about environmental conservation among IT employees. The event's slogan was "Let's ride for a clean and green environment." The Go Green initiative was dubbed 'Eco-Ride,' as the theme revolved around raising awareness about the importance of keeping our environment clean and green.