According to McKinsey, 31% of organizations have fully automated at least one operation.
Embracing business processes automation brings a heap of benefits to enterprises. In fact, businesses on the fast track to digitalization are breaking ground with RPA. Complex business processes demand automation for time-consuming and labor-intensive tasks. And having fewer cumbersome tasks improves both employees' and the company's productivity.
So how do automation services deal with business process complexities?
Automation employs technologies like Artificial Intelligence (AI), Robotics Process Automation (RPA), and Machine Learning (ML) to understand the business challenges and offer the right solution. Over the years, automation tools have proven to be a breakthrough for industries. Automation reduces the overall operation cost while improving enterprise productivity.
Let's look at 5 critical business processes that need to be automated: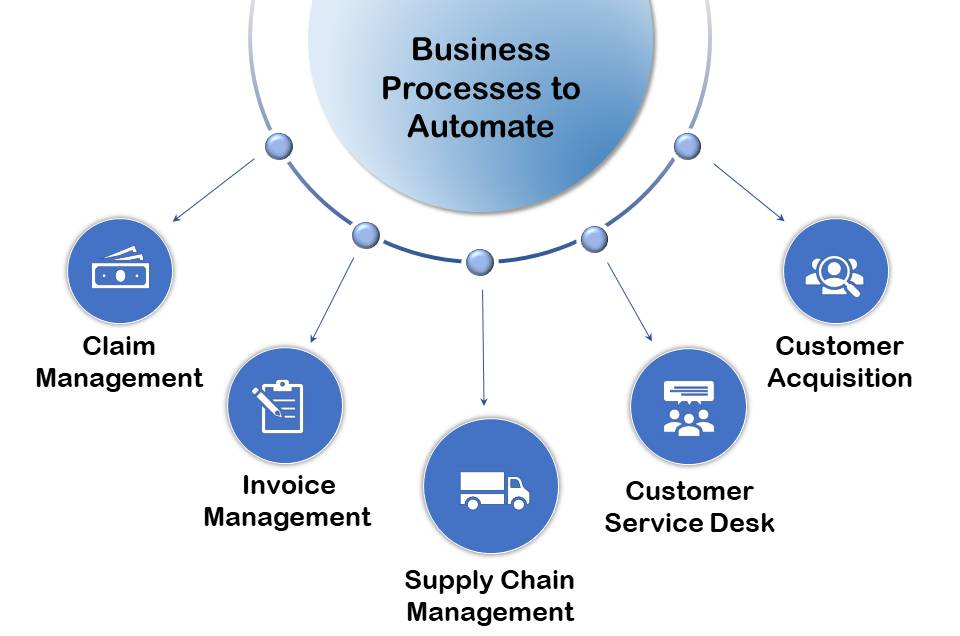 Claim Management
The pace with which claims are resolved significantly impacts the insurance company's reputation. Companies need to fulfill their commitment to consumers by establishing service standards. However, manual data inputs, data retrieval, and obsolete software obstruct the claims processing.
Insurers can optimize cost and time by automating labor-intensive activities. Some processes that businesses automate include fraud detection, claim processing, and data analysis. Tools like automated document verification, chatbots, and AI for data extraction improve the claim management process.
Key advantages of claim management automation
Relieves employees from time-consuming paperwork and procedures
Improves data accessibility, data integrity, and user experience
Reduces the cost of automated job roles by 30–40% while increasing their efficiency twofold
Fraud detection by analyzing and finding correlations between the documents
Invoice Management
Every day an enterprise receives thousands of invoices. Integrating the invoice information into multiple frameworks is a sensitive and endless task. A typical invoice processing entails a tedious process. Entering invoice data, verifying orders, among other processes are time taking and reduces productivity.
Automation tools take less than a fifth of the time to process invoices compared to their manual counterparts. Implementing automation services allows the effortless collection of invoice data across different platforms. It enables bots to read and verify critical data from orders. RPA bots use tools such as AI to generate invoices. Consequently, enterprises can reduce significant penalties and payment delays, in turn maximizing revenues.
Key advantages of an automated invoice management system
Accelerates the invoice collection and processing speed
Optimizes all the incoming data by integrating enterprises systems
Reduces the number of manual errors and duplicates
Slashes labor costs and prevents late payments
Customer Service Desk
Did your service desk ever flood with tons of customer issues at once? Well, in that case, your executives must be working around the clock. However, AI chatbots can resolve this issue in no time.
Help desk automation enhances the customer experience by eliminating repetitive manual tasks. With minimal effort, businesses can automate their email processing and SLA tracking. Other processes include incoming ticket processing, follow-ups, and compliance.
Faster service and efficient communication channels cause a surge in automated customer service.
Firms that embrace automation technology have the advantage of enhancing their customer satisfaction. They can save around 40% on their service costs, according to McKinsey.
Key advantages of automated customer service desk
A quick response to customers along with faster service resolution
Reduced human errors and improved customer experience
Centralized customer information platform with all the data
Supply Chain Management
The modern supply chain is all about flexibility, reliability, and agility. With an increasing client base and business geographies, the supply chain demands a broader business method. Intelligent automation integrates supply chain steps to build agility and accuracy.
From warehouse automation to back-office and shipping, any component of the supply chain could be automated. By leveraging AI and RPA, automation aims to reduce the supply chain operation cost.
RPA can address client requests and streamline back-office repetitive tasks. Automating supply chain processes enable speedier shipment and better customer experience. Enterprises are also eliminating the possibility of human error by assigning these jobs to a high-capable AI solution.
Key advantages of supply chain automation
Increases operational transparency by creating a centralized site for employees to access information
Improves operational efficiency as it is more agile and cost-effective than manual labor
Better service to clients by keeping them informed about order status in real-time
Saves time and improves accuracy by reducing manual errors
Customer Acquisition
An enterprise needs automation strategies if its goal is to acquire new customers. As process automation saves time and easily moves prospects through the lead funnel. By leveraging data, it offers massive data management and audience behavior monitoring capabilities.
Automation tools help shorten the customer acquisition cycle and accelerate the sales process. Chatbots, automated email and lead capture, etc., speed up the entire customer acquisition cycle.
Key advantages of automating customer acquisition processes
Generate and nurture promising leads while businesses can concentrate more on creating strategies
Improves customer relations and creates a more customer-friendly image
Automation services aid in bringing transparency to businesses and employees
Evoke technologies has the expertise to assist you in implementing AI-driven RPA solutions. Our experts deliver top-notch automation services to enhance business operational efficiencies. We leverage RPA, Chat Bots, ML, and Intelligent Automation for process transformation. We offer a solution that can improve your turnaround time, eliminate manual intervention, and save significant hours per month. Let our RPA experts bring value to your business in just a few weeks.