Accessibility is not a feature, is a social trend." ― Antonio Santos
Many people struggle to interact with digital interfaces due to their inability to adapt to something new. When put in simple words, accessibility is an ability to access regardless of any situation or condition. It is the process of designing any product/service considering people with all major disabilities. Accessibility addresses equality as it enables people to access, navigate, and interact with digital services. It is a means of achieving equality and building confidence in people with disabilities.
For instance, a person with a hearing disability can watch videos with the help of captions. Likewise, anyone who cannot use their hands can type with the help of a mouse stick. Even someone, who cannot see, can access the web with the help of a screen reader.
Why Accessibility Matters
There has been a tremendous surge in digital transformation over the last few years. Laptops, mobile phones, and other electronic gadgets have become indispensable in our daily lives.
For those with disabilities, accessibility is a fundamental human right. However, disability is often ignored and has become a reason for digital exclusion. As a result, people with disabilities are not able to use modern technologies and digital systems successfully.
Here are some eye-opening key facts that show how accessibility is an area of concern for individuals, society, and businesses:
Core Principle of Accessibility – POUR
Disability is an exception that is kept in low priority in the design process. The abbreviation POUR stands for four principles, Perceivable, Operable, Understandable, and Robust that explain functional accessibility. POUR principles may be used to explain the difficulties that people with impairments experience.
Perceivable – Provided through touch, hearing, or sight
The term perceivable refers to the user's ability to identify the interface and content using his or her senses. Users simply observe and comprehend the system visually. It is different for people with different types of disabilities. Some people can perceive through sound or touch. Therefore, the system should respond differently to different users and it could be beneficial to all types of users.


Operable – Compatible with input methods
The Mouse and keyboard are the main input method for digital interaction. In mobile devices, it is replaced by a tap.
People with disability are unable to use these options properly. They require alternative devices like keyboards, switches, or eye trackers to access digital content. Therefore, it is necessary to design in a way that supports these devices.
It takes more time to perform tasks or activities for people with disability. Application/product should consider this aspect of time. People make mistakes, therefore the system should be capable to support them by offering instruction, warnings, and easy ways to recover from errors.
Understandable – Easy to comprehend
A system that is perceivable and operable doesn't qualify to be understandable. Certain conditions should be fulfilled to achieve this principle.
For technology to be understandable, it should be consistent and predictable along with seamless navigation. The most important thing to ensure is the use of simple, clear, and concise language.
The design approach should be based on standards and best practices not reinventing the wheel.


Robust platform – Support assistive technologies
Technology is rapidly evolving. The system should be designed to handle numerous technologies along with their advancements. People with disabilities employ a variety of assistive devices. When it comes to accessibility, these technologies must be adequately addressed. Overall, the system should be very much robust. So, it can be used by any person on any device with its full potential.
Accessibility Vs Usability
Usability is the way to quantify the usage of any system by its user. It defines the level of ease, which helps the user to accomplish the goal effectively and efficiently within a system. Accessibility is considered for all users. It includes people with disability also. These people cannot be escaped. Otherwise, some portion of the user would be out. Consideration of accessibility is also part of usability enhancement.
It can be said that "Usability can be elevated to the next level by addressing accessibility and inclusive design approach."
Accessibility Compliance
Accessibility compliances are the set of guidelines and standards governed by laws to prohibit discrimination against an individual with a disability in many countries. Whether a company is a commercial corporation, a school, a government organization, or a non-profit, some regulations require digital accessibility compliance. To ensure accessibility compliance, there are federal laws, state laws, and international laws. Here are some of the laws related to accessibility:
ROI for Accessibility
More innovation: Increasing accessibility is a worthwhile effort to drive creativity in the company. The universal design approach and accessible design thinking provide a variety of flexible ways to interact with the system and people. This initiative provides a learning opportunity and more exposure to the individuals in the company.
Positive brand messaging: A company must protect and enhance the value of its brand. Working towards accessibility can be viewed as an act of greater social responsibility. The advocacy and inclusive approach towards diversity will strengthen the brand value.
Market share and more traffic: The market presence of people with disability is continuously growing. There are several areas where disabled people actively participate, like online education, eCommerce, online banking, social media, and much more. Disabled people are the major stakeholder in a big market segment.
Reducing the legal risk: Digital accessibility is regulated by the government and mandated by the law across the globe. All the commercial and public products/services must be compliant with the guidelines, which otherwise could lead to legal risks. Adhering to accessibility compliance for products or services reduces such kind of risk.
Inclusive Design and Strategies
Inclusive or universal design is the process-based approach for mainstream products, services, or systems that fit everyone regardless of diversity. Inclusive design helps create a system that can serve as many people as possible. The core objective of inclusiveness is accessibility and maximum reach. Here are a few design perspectives: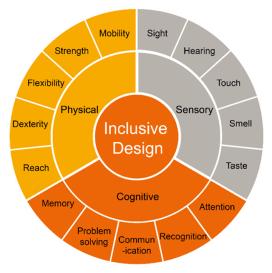 Image Source: gsk
It's very important to know the people you are designing your product. Only primary users should not be considered. Design should impact stakeholders, social groups, and people directly or indirectly.
Design with clear affordance so that the interaction is both intuitive and available to the user of all abilities. This is helpful for users who are cognitively impaired, distracted, or in a hurry.
Inclusive design is a people-centric approach. Innovation in products, services or systems should align with assistive technologies since this will provide new ways to access the adoptive product.
Numerous design patterns work perfectly for regular users with a mouse, a touch device, or a screen. However, these are not suitable for a non-mouse, non-visual, or non-touch platform. It is upsetting to see the people with assistive technology struggling to use the same interface. Therefore, the uncommon user should be prioritized at the design stage.
Inclusive design should the considered at every stage of product, service, or system development. Keyboard interaction, reading order, color contrast, text, and media accessibility should be underlined at the designing stage.
Design Challenge for Accessibility
Education and awareness are big challenges for accessibility. People are not well aware of disability, accessibility, and how it affects other aspects. This is not included in any learning or training. As a result, even the designers, developers, and other team members have limited insights.
Advancing accessibility is difficult; currently, individuals are lagging in terms of compliance when accessibility recommendations are part of a project. If it is not requested, it is considered an afterthought.
Accessibility is not seen as an organizational responsibility. As a result, it is not viewed as needed. Nonetheless, it is seen as an optional and value-added service.
Takeaway
To make inclusive design a significant component of technology product, service, or system development, we need to start thinking of use cases in which lack of accessibility negatively affects a product's market reach and launch strategy. Accessibility is a pressing concern, and design teams must be more proactive in taking ownership. Making products more accessible and useable to as many people as possible is a collaborative endeavor.
Designing the experience for all might not be the easiest thing to do or the primary objective of the products or services. However, adopting the inclusive design approach will result in a happy user and a better product. These efforts will be much helpful in reducing the digital divide and bridging the gap.
Author
| | | |
| --- | --- | --- |
| |   | Kanak Kumar is a Lead UX Professional at Evoke Technologies with experience in UX Design and Research methodologies. Kanak strongly advocates the importance of user-centric design and is capable of resolving user and business problems leveraging the latest trends and technologies in the design space. In his free time, he enjoys reading books, exploring different genres of music, connecting with people, and gathering their thoughts on various aspects of life. |