Your inside sales team needs are covered right with a CRM by their side. But what about the needs of those unsung heroes who spend most of their time outside the comfort of the office. Don't they deserve some empowerment or a magical mobile app development technology to make their work a tad bit easier? They do, right?
Digitizing the tedious and erroneous work of your field technicians and engineers can come easy with a Field Service Mobile App. Not only a Field Service Mobile App can cut the unnecessary clutter from any chaotic day on their calendar, but also maximize the use of time to reach out to more customers in a given day. These apps bring speed, ease-of-use, and centralized organization to your field workforce, and first-rate experience to the customer.
5 Typical Challenges Faced by Field Service Personnel
Schedule Adherence: Know your service men's real-time location, their performance, and adherence with allocated job hours. It allows you to manage task distribution on a daily basis.
Unacceptable Repair Times: Without instant mobile access to repair procedures and customer service history, repair times and SLAs are difficult to achieve.
Low Technician Productivity: Time-consuming paperwork, manual data entry reduces the productivity of service technicians as well that of the enterprise.
Lost Revenue: Inaccurate capture of repair costs as well as lack of visibility into SLA agreements translates into invoices that do not reflect changes accurately.
Losing on Potential Sales: While service technicians are not traditionally sales people, they get valuable face-to-face time with the customers which could be leveraged to extend an expiring service contract, upgrade service leads, and cross-sell services/products.
How a Field Service Mobile App Boosts Your Company's Productivity through Better Delivery?
Extremely flexible and designed solely for the purpose of easing up the lives of field servicemen, these service apps go beyond than putting a calendar and directions in the hands of technicians and engineers to deliver complete visibility for maximum productivity.
Technicians do more than just scheduling jobs, calculating work estimates, or debriefing work order. They not only accurately account for their work, but also follow the right steps for consistent service. And, they can do it all in a more connected and seamless manner whether online or offline with a good field service app in hand.
Let's look at some of the benefits of a field service app.
| Feature | Advantage | Benefit to the company |
| --- | --- | --- |
| Multiple Work Scheduling Methods – Manual, Automated | Saves Time, Systemized work day | Increased optimization and reduced costs |
| Real-time Notifications/Alerts | Increased productivity, Reduced delays | Higher Service Level |
| Schedule Optimization using multiple factors | Managing work as per priorities and constraints | Resources are always correctly assigned |
| Route Planning | Clear view of the territory, Greater number of jobs done a day | Less fuel consumption, Increased profitability |
| Real-time work dispatch with real-time progress updates | Quicker ROI due to instant field communication | Increased efficiency and productivity |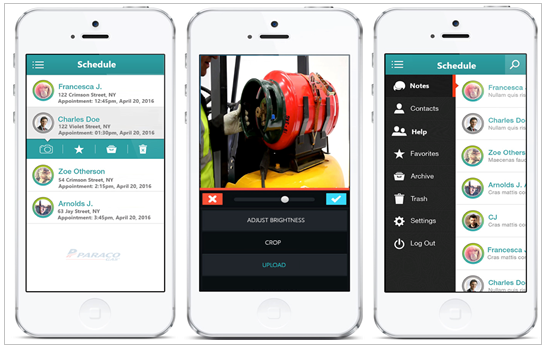 5 Features of a Field Service Mobile App:
Offline Capability: Field agent can capture his field data without Internet connectivity so that data syncs back whenever his Internet is available.
Attach Photo, Video, and Document: Easily attach files (PDF, MS Office, and media) into work orders, take photos and videos, crop or trim content before uploading – all of this on-the-go.
Help on Fingertips: Service techs and engineers to have equipment insights needed to improve mean time to repair (MTTR) and first-time fix (FTF). Sales personnel can have the optimum price calculator to provide the best price to the client.
Smart Documentation & Compliance: The app will dynamically create service reports, invoices, etc., based on workflow rules and procure customer signature while still on site.
Jobs Planner: Mark as favorite or priority jobs of the day, update contextual notes to improve service execution, capture time for each job to improve the planning automatically.
Did we read your mind right? 😊
Thinking of replacing your existing work models with an advanced mobile field service app? Get in touch with us for designing a smooth and easy field service mobile app, so that your field agents have the real-time access to support on the field, are in control of the jobs they execute and become more productive in lesser time.
We help you to be free from any licensing cost or monthly SaaS subscriptions of field apps. As and when features increase, multiple configurations make the ready-made apps to bloat and even become slow with unnecessary features. We will build a tailor fit mobile app that works in harmony with your Enterprise's workload and expectations.
Evoke's Mobility Services
At Evoke Technologies, we are committed to helping more businesses like yours discover how much they stand to gain from going mobile. We learn the ins and outs of your work to pinpoint where mobility services can make a measurable difference. With proven experience in developing mobile applications across native (iOS, Android) and cross-platform. Our diverse mobile app development services enable enterprises to go mobile while keeping their long-term business goals into consideration.
Author
| | | |
| --- | --- | --- |
| |   | Kankana Choudhury heads the Mobile App Development Practice at Evoke. She is passionate about emerging technologies and its intersection with mobile, cloud and analytics. Kankana worked on some complex business and technology problems and provided effective solutions during her stint at Wipro, PwC and Huawei. |