In the last two years, industries witnessed a massive shift in technology trends. The evolving work culture and diverse workforce caused a significant increase in the number of organizations seeking to drive process transformation and improve operational efficiency. However, enterprises are skeptical of technologies that can meet their needs while also providing them with a competitive advantage.
If you are looking to implement hyperautomation in your business effectively, don't look any further.
Nintex and Evoke Technologies recently hosted an insightful webinar on "How to rethink back-office functions with hyperautomation." The in-depth webinar discussion highlighted the key trends in hyperautomation and how enterprises can utilize automation to accelerate their digital transformation and maximize their investments. Here are the key insights from our experts.
Emerging Trends in Enterprises
The potential that technology has to offer is becoming a major reason why businesses are gravitating toward IT. Our experts identified a few trendsetters that are emerging in major industries:
Enterprises are looking for ways to boost productivity, especially with the rise of remote and hybrid work cultures. It necessitates the use of alternative solutions like automation to maintain productivity and quality in any industry.
Enterprises like finance and manufacturing are moving toward informed decision-making. They have begun to seek real-time analytics and predictive analysis. These enterprises have started embracing automated solutions to automate nearly every process fully.
Enterprises are looking for ways to retain employees by assigning meaningful work rather than repetitive tasks. The ability to automate mundane tasks and reassign employees to more meaningful and engaging work is assisting businesses in bridging the gap.
Automation Solution That Businesses Are Looking Out For
Financial and insurance services emphasize automating manual and repetitive processes such as customer onboarding, payments, and HR functions. These enterprises want to increase productivity and lower overall operating costs.
Automation is making its way into regulatory compliance, particularly monitoring and reporting. Fraud detection is another focus area in which businesses are interested in using AI/ML.
RPA solutions are in high demand for automating the majority of back-office tasks. RPA solutions eliminate the need for manual labor in routine back-office processes such as spreadsheet validation, data entry, and many others. Enterprises are leveraging automation solutions to minimize repetitive tasks and generate error-free data.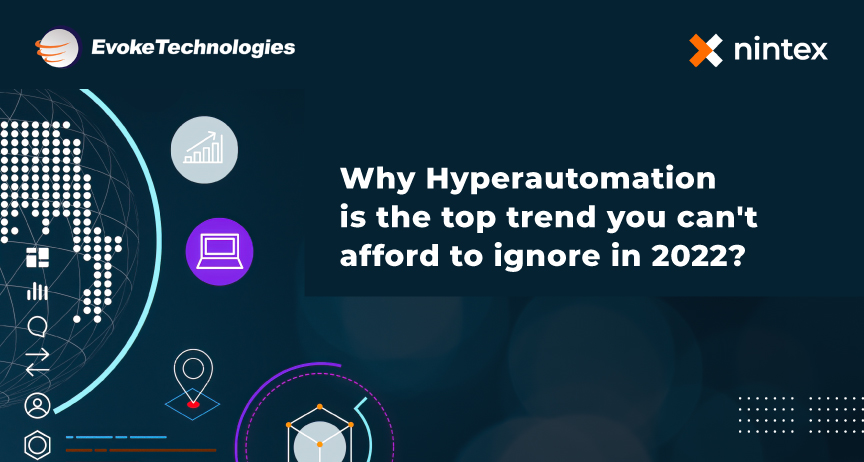 How To Get Started with Automation?
Hyperautomation is a potential opportunity for enterprises looking for process automation. Enterprises seeking to kick start their hyperautomation journey can do so by following these steps:
Analyze and gather data on processes that create bottlenecks and need to be automated.
Identify data that can assist in working on process automation, such as unstructured and structured data.
Predict outcomes in terms of process efficiencies and ROI.
Choose the automation platform that will best meet your needs.
or
Speak with our experts and let them identify bottlenecks and implement automation in a matter of days using the Nintex Evoke RPA solution.
Key Takeaways
From employee satisfaction to increased productivity to achieving operational excellence, hyperautomation broadens an organization's competitiveness. Hyperautomation is being used widely to improve existing processes in a variety of industries, including healthcare, finance, manufacturing, and supply chain management.
Intelligent automation keeps an enterprise on par with the ever-changing market needs. Nintex and Evoke's RPA solutions can assist you in offloading manual work and achieving process excellence. Let our automation experts give you a competitive advantage by leveraging the easy-to-use Nintex Process Platform.
Keep up with emerging trends by leveraging hyperautomation and never stop automating.